December is a feast of Cookie Days
Cookie Day December 4th
For most English-speaking countries, except the U.S and Canada, we sometimes call big chewier biscuits 'cookies' and the smaller crunchy biscuits would be, well.. just 'biscuits'. But we are not going to argue over terminology when there is a special day for celebrating a good, chunky choc chip cookie. So on December 4th let's all celebrate Cookie Day!
Different shapes and sizes
Cookies come in all shapes, sizes and they're really easy to bake. So easy that even the kids can join in. And what could be more fun than making some lovely biscuity treats with your children? Eating them of course!
Here in France we have some lovely, moreish, crispy cookies, like Crêpes Dentelles, which means 'lace crepes'. They are very thin crepes with have been folded over, so you have a deliciously thin, layered crunchy texture. They were invented over 200 years ago in Brittany by Marie-Catherine Cornie. She developed a secret recipe for making the paper thin crepes, but luckily it isn't a secret any more. So now you can find artisans all over France who specialize in making crêpes dentelles.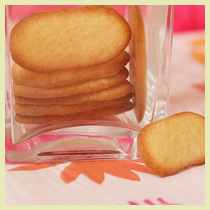 Another favourite of ours is Langue de Chat. These are small, thin, crispy French cookies and you can get them dipped in chocolate for extra scrumptiousness. Or flavoured with lemon, orange or vanilla. Langue de Chat means 'cat's tongue'.
It's probably where the saying comes from 'has the cat got your tongue?' when someone is very quiet or doesn't answer a question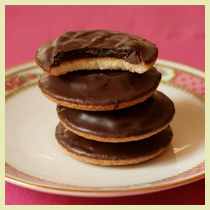 Up next is the Genoise Sandwich which is surprising similar to the popular McVitie's Jaffa cake (is it a cake or is it a biscuit?).
These French biscuits come in three layers – a soft, Genoise sponge base, a jelly filling, and a thin chocolate layer on the top. It's a delicious blend and a Genoise Sandwich is lovely with afternoon tea.
.
Speculoos are a crunchy dark brown cookies that originated in northern France and Belgium. They are flavoured with cinnamon and and taste like caramel because of the special dark brown sugar that's used, called vergeoise brune. These biscuits are delicious with coffee, which is why you will find them served in cafes all over the world. There is also a famous brand of ice cream that makes a whole range of speculoo-flavoured ice cream treats. And they're very, very difficult to resist!
Image credit – Jonathan Taylor on Unsplash
Bake a Cookie Day 18th December
So there's also Bake Cookie Day this month as well. So on the 4th we can just choose to eat our favourite cookie or biscuits. But on the 18th December, you can't put it off any longer, and you have to bake some cookies. And in case you are stuck for ideas, here's a few simple cookie recipes that all the family will enjoy making and eating.
A cuppa and a cookie
A biscuit and a brew. Same thing but different. Whatever you call them, they're delicious. So sit down with your favourite biscuit or cookie and put your feet up. And while you are relaxing and thinking about where to go, when travel restrictions and lockdown are a thing of the past, remember Bel-Air Gites. Your favourite family holiday destination and all those great memories. Do you remember that wonderful pool, the play barn, and the playground that kept the kids totally entertained all holiday? So what are you waiting for?